Save on your energy bills with So Energy
Winter is coming – and that means colder weather and bigger energy bills are right around the corner.
At this time of year there are only two ways to battle high prices: use less energy or find a cheaper tariff or supplier. 

We've spoken before about how to reduce your energy consumption. Today we'll look at energy tariffs, and why the traditional offerings from suppliers don't always deliver the value they should.
Finding the best price isn't always easy
There's no shortage of services to help you compare tariffs and find the best offer, but while the projected savings can be encouraging, ensuring you consistently pay a low price for energy across the year is harder than it looks.
That's partly because you need to do a fair bit of work beforehand to review your past bills and understand your yearly energy usage. Comparison sites need accurate annual data to make the most accurate prediction of savings possible.
Another issue is choosing between variable and fixed tariffs. Under a variable rate your supplier is free to update your tariff to reflect shifts in wholesale price.
That can be a benefit if prices stay low, or leave you at the mercy of the market if they rise.
And if a drop does occur, suppliers can drag their heels when it comes to passing on the savings.
Choosing a fixed tariff can make your monthly bills more predictable in terms of the unit-prices you pay, but you'll miss out on savings if the wholesale energy price shifts in your favour.
Keeping energy bills low shouldn't be so complex – or require so much effort. But as a consumer, what can you do?
Why So Energy is different
Here at So Energy we continuously monitor the market to ensure that our fixed tariff is amongst the top 10% of the cheapest tariffs available. If it isn't, we bring out a new one that is.
This approach saves customers money – and it makes life simpler. Most suppliers offer a selection of tariffs and finding the right one can be confusing. By offering one fixed tariff alongside a Low Price Commitment, we do the comparing for you.
How we keep prices low
To ensure you always get the best possible price, we review what energy suppliers are charging an average consumer each day across the country. Then we make sure our fixed tariff is in the lowest 10% of all these.
Us versus the market. Here's how it looks in practice: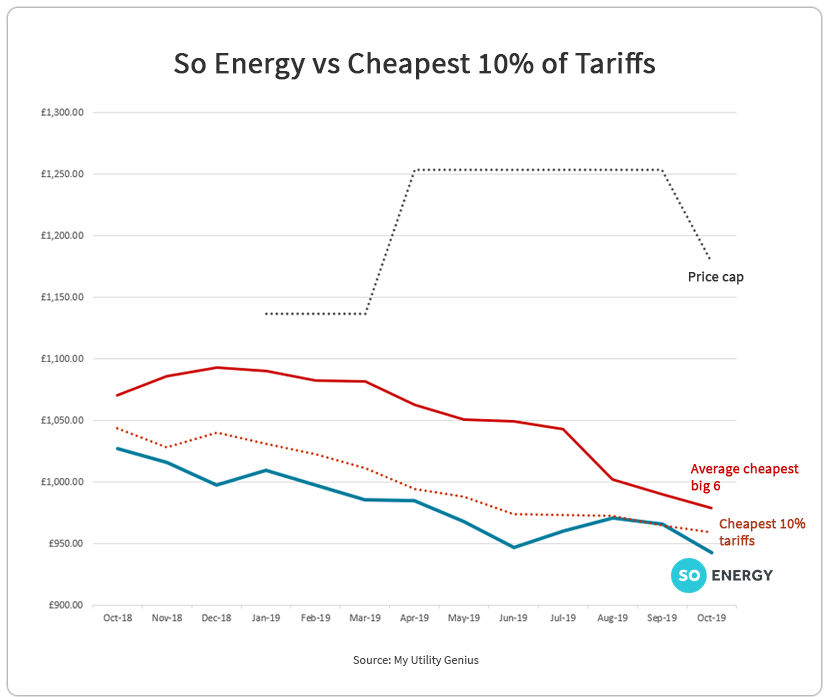 Figure 1: Comparing the cheapest average energy tariffs by month

In Figure 1 we looked at the cheapest tariffs available over the past year, took an average for each month, and compared it with our own.
Figure 2: Comparing So Energy to other notable energy suppliers

In Figure 2 we looked at the average lowest tariffs being offered by other notable suppliers, alongside an average of the lowest prices available from the Big 6. Suppliers included So Energy, British Gas, Bulb, E.ON, EDF, Npower, Octopus, OVO, Scottish Power, and SSE.
Other great reasons to consider So Energy
While we're working to beat other suppliers on price, we're also beating them on service.
So Energy consistently scores 5-star customer reviews on TrustPilot. And a recent survey by Which? shows we have the fastest call response times of any supplier.
Part of our commitment to great service is to make switching as seamless as possible. In a time when complaints about the switching process are on the rise, we were one of the first to sign up to the Energy Switch Guarantee.
And don't forget, all of the electricity we sell comes from renewable sources.
We obtain Renewable Energy Guarantee of Origin (REGO) certificates for the power we purchase, which confirm that all the electricity generated is renewable. We share those with Ofgem so you can be sure that the energy you're buying is clean and low-carbon.
With So Energy you save money, get great service – and do your bit for the planet.
Change: you can feel it in the air
Thinking about making the switch to lower prices, better service and cleaner energy? We make changing suppliers easy and transparent. If you're an existing customer, tell your friends. We'll give you a reward for referring us – £40 for each one that signs up.
Get a quote today!
Share this article